Community Profile: Jeffrey Mitsuo, Local Artist
By Jake Stevens, December 2, 2021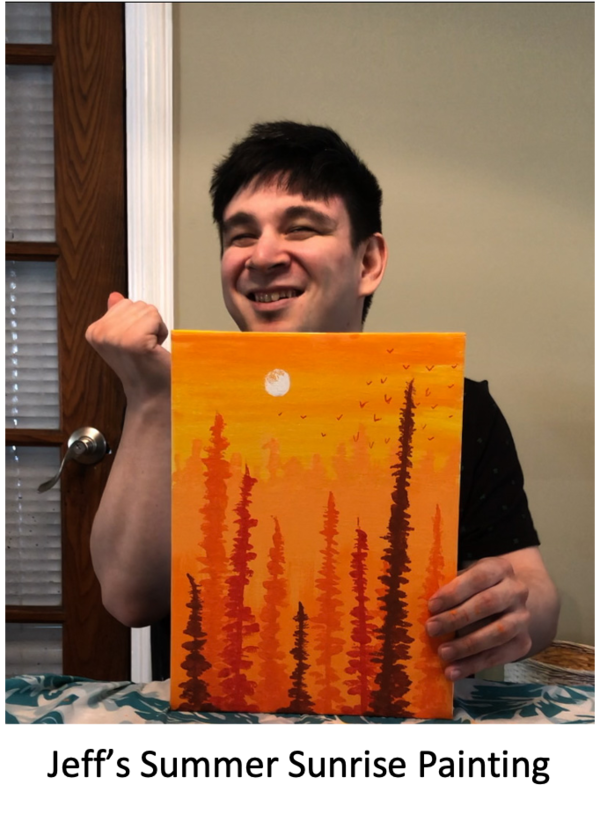 Jeffrey Mitsuo is an artist from Ajax, Ontario. Jeff was born with Cerebral Palsy and later diagnosed with a developmental delay. As a result of his CP, he is unable to talk and has a difficult time performing fine motor tasks such as tying his shoes, buttoning up shirts, and handwriting. However, two years ago Jeff found a love for painting and hasn't let his physical limitations get in the way of his creative spirit.

Before the pandemic, Jeff and his best friend Jake Stevens enjoyed many activities such as going for walks, swimming, being out in the community, shopping and hanging out. However, once the world shut down they had to explore new hobbies from the safety of their homes. Jake has a creative background and wanted to take this opportunity to introduce Jeff to painting. It didn't take long before Jeff began experimenting with different colours, brushes, and brush strokes. For someone who has a difficult time spending more than an hour on any given task, five hours later Jeff had finally finished his very first painting and was incredibly proud of his accomplishment. When Jake took Jeff home, Jeff's parents couldn't believe the amount of time and effort Jeff put into his artwork.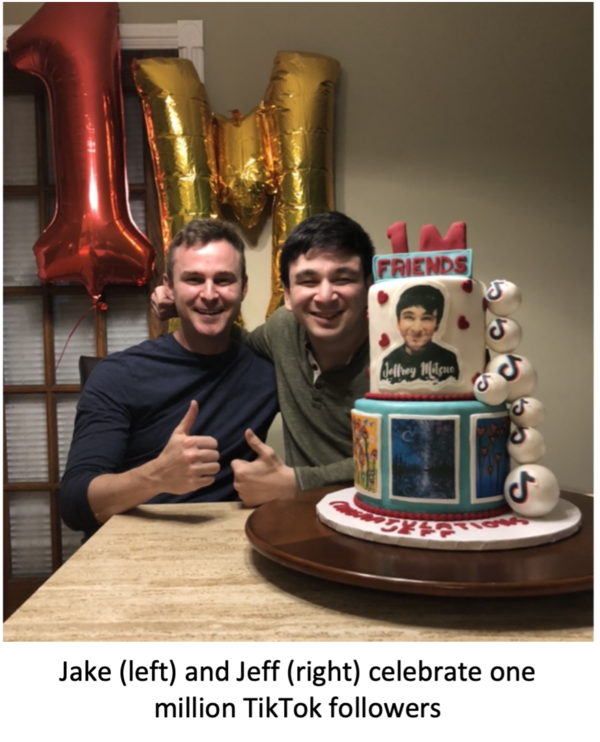 Jake initially created a social media (TikTok) account (@paintwithjeff) so he could edit video clips of Jeff's artistic process and send the videos to his family. However, the first video ended up being viewed and shared over half a million times as people quickly became fans of Jeff's wholesome and inspiring content. His videos have now been viewed close to 100 million times. People seem to have gravitated towards Jeff's refreshingly genuine and positive outlook that he radiates in all of his videos. Not only does he remind everyone to challenge personal limitations, but to have fun and enjoy the process along the way. Jeff and Jake are also striving to make art more accessible for everyone. In every video, they try to use a new tool or technique not only to help Jeff overcome his own physical obstacles but also to share new ways of creating art.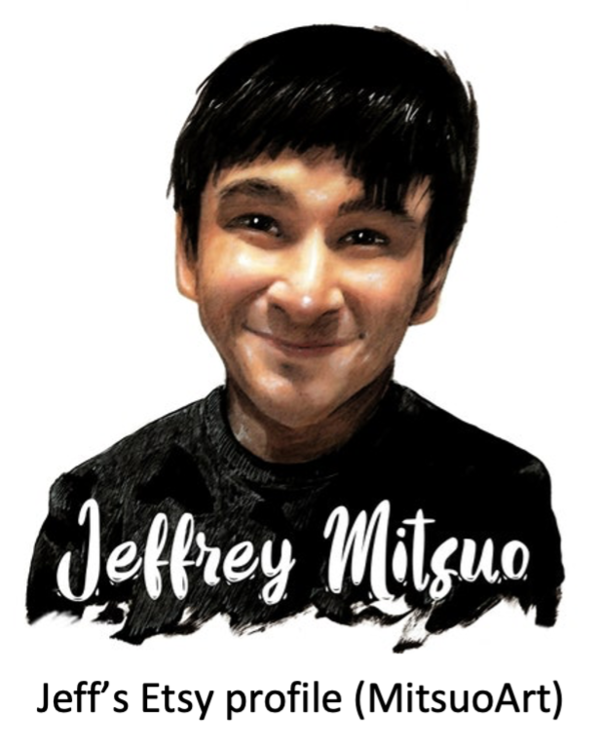 In March of 2020, Jeff opened an Etsy art shop, MitsuoArt, as a way to sell prints to a handful of fans who asked for a piece of his work. Since that time he has had over 6,500 orders and his art has been shipped to 47 countries and counting! He is now able to earn his own income and save money for the future. Jeff has also donated a portion of every sale to three impactful causes in the local special needs community. He has covered the cost for several kids to play for the Niagara Jr. Ice dogs special needs hockey program, he has sent kids to Camp Dreamwood – an inclusive camp for children of all abilities, and he created the Jake & Jeff graduation bursary so that students with special needs can achieve awards alongside their graduating class.
Jeff and Jake don't know what the future has in store for their social media spotlight. They plan on continuing to post videos and enjoying the moment. Jake said, "as long as Jeff is happy and having fun we will continue to make new content – and I think it's safe to say he is both." You can find Jeff's videos on Tiktok and Instagram under the username @paintwithjeff.