CP-NET Science & Family Day 2015
On October 7th 2015 (World CP Day), Holland Bloorview Kids Rehabilitation Hospital hosted families, caregivers, clients, healthcare professionals and researchers for our 2nd annual CP-NET Science & Family Day.
The day included presentations highlighting the latest CP research, engaging panel sessions, inspiring plenary talks and a community photo contest and exhibition. The event concluded with a CP Community Resource Open House and World CP Day Celebration.
Thank you to all who made this day such a success!
Congratulations to Our Photo Contest Winners!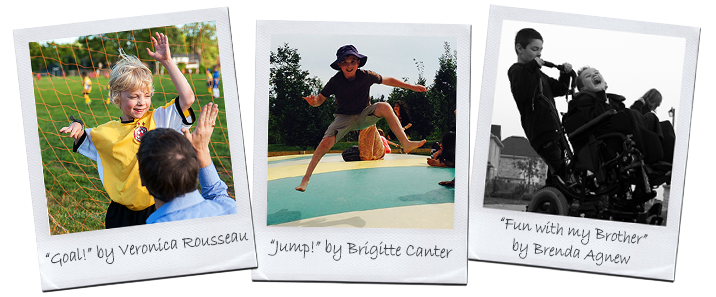 Welcoming Remarks & CP-NET Overview with Video Screening
Darcy Fehlings, Scientific Director of CP-NET
Julia Hanigsberg, President & CEO of Holland Bloorview Kids Rehabilitation Hospital
Tom Mikkelsen, President & Scientific Director of the Ontario Brain Institute
Engaging Through Social Media Panel Session
Panelists: Crystal Chin, Matt Freeman, Cheryl Peters & Connie Putterman
Moderator: Brenda Agnew
Genomics & CP Research Presentation
Richard Wintle, Centre for Applied Genomics at The Hospital for Sick Children
Accessibility and Participation for Children in the School System
David Lepofsky, AODA Alliance Chair
My Journey with Sports
Eric Flemming, Paralympic Athlete
Fitness & Leisure for Teens & Young Adults with CP Panel Session
Panelists: Jessica Silver, Megan Sherwin & Wesley Magee‐Saxton
Moderator: Lauren Switzer
Growing Up with CP: Voices from the MyStory Project
Jan Willem Gorter, Director of CanChild
Thank you to our sponsors!