Megan Sherwin, Competitive Swimmer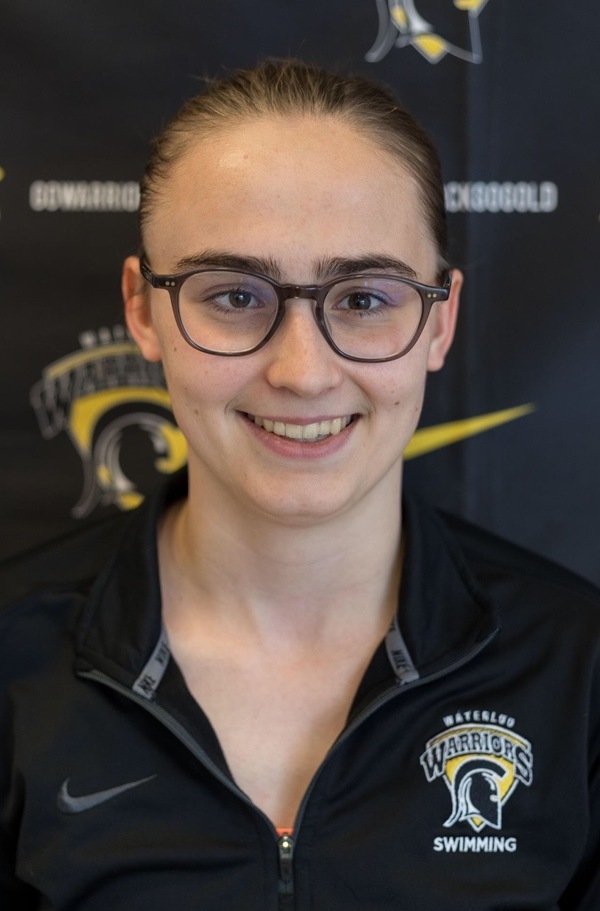 It has been eight years since CP-NET last checked in with Megan Sherwin. At the time, she was in Grade 9, training and competing with the Flames integrated swim team at Verity Village in Toronto and dreamed of competing in the 2020 Olympics.
A lot has happened since then. Megan graduated high school in 2018 and went on to study Recreation and Sports Business at the University of Waterloo. In addition to her studies, she belongs to the university's varsity swim team, the Waterloo Warriors. Megan volunteers at and is a member of the KidsAbility Youth Advisory Council (KAYAC) when not studying or swimming.
​
Megan is one of two para swimmers on the Waterloo Warriors roster––herself and a member of the men's team. She explains, "a university is allowed to have 18 able-bodied athletes and one para-athlete per gender." Due to a stroke before birth, Megan has left-side hemiplegic Cerebral Palsy. "It's great to be able to compete on a university level and have a team that supports para-swimmers and just be like everyone else."
In early March, the team competed in the University Provincial Championships. Megan achieved the best time in her 200-meter race. "It's nice to know I can still get best times at my old age," she says with a laugh. "It was a nice surprise."
She and the team train twice a day, six days a week, beginning at 6:00 am and including pool and dry sessions. Juggling swimming and school have taught Megan many valuable life skills, including the importance of time management, teamwork, and balance. As a result, she often plans and completes her assignments early––sometimes weeks in advance––especially if it's due the Monday after a weekend swim meet. But she wouldn't have it any other way. "Swimming has helped my school, and school has helped my swimming," says Megan. "I don't know what I would do without either of them."
While she competes against both para- and non-disabled athletes, as a para-swimmer, Megan does have "a code expectations" that are unique to her abilities. For example, she explains, instead of swimming two laps with the butterfly stroke, I have the option to swim one with the butterfly. Otherwise, the meet and race results are documented the same way for all competitors.
Megan is travelling to Berlin, Germany, at the end of March for a reclassification meet. Para-swimmers must compete in reclassification meets every few years to evaluate their current abilities and ensure they are competing at the current level with the appropriate exemptions. In addition to the meet, she is excited to visit and explore Berlin for the first time.
Now 21 years old, Megan is currently in the fourth of her five-year program. The alternating school and co-op terms over a three-semester year enable her to earn a degree, valuable work experience, and try many different roles within the recreation and sports business industry­­––discovering what she likes or doesn't like––before graduating in 2023. During this Winter semester, Megan has been working remotely as a video analyst for TritonWear, a company that specializes in wearable technology that helps swimmers track and improve their performance.
Like most students, COVID restrictions mean that Megan has spent the last couple of years studying and working from the apartment she shares with two friends, just a short walk from campus. Things began to feel a bit more normal when swimming started again, but she is excited to get back to in-person classes this Spring semester.
Megan advises youth to be open to opportunities and try everything until they find their passion. She played hockey, soccer, and ran cross country before discovering her love for swimming. With swimming came opportunities to compete and travel both in Canada and internationally, meet new people, create lasting friendships, and push herself to learn new and transferable skills. And she approaches opportunities that arise within school the same way.
"Don't put yourself in a box because you have a disability. There are so many opportunities from it that you may not expect. Eventually, you'll find something that works for you."
Written by: Jessica Geboers

Q&A Session with Megan Sherwin, Competitive Swimmer

At what age did you become involved in sports?
I started to become involved in sports at the age of 6. I played soccer and hockey first. Then at age 9 I started swimming competitively at Variety Village.
... and how did you become involved in swimming?
I found hockey hard to play because you need two hands to hold the stick and shoot the puck. My Dad cut a hole in my glove so I could hold onto the stick better but it didn't really work that well. I was taking swimming lessons at Variety Village and the coach of the Flames Swim Team asked my mom if I wanted join the swim team and I've never looked back.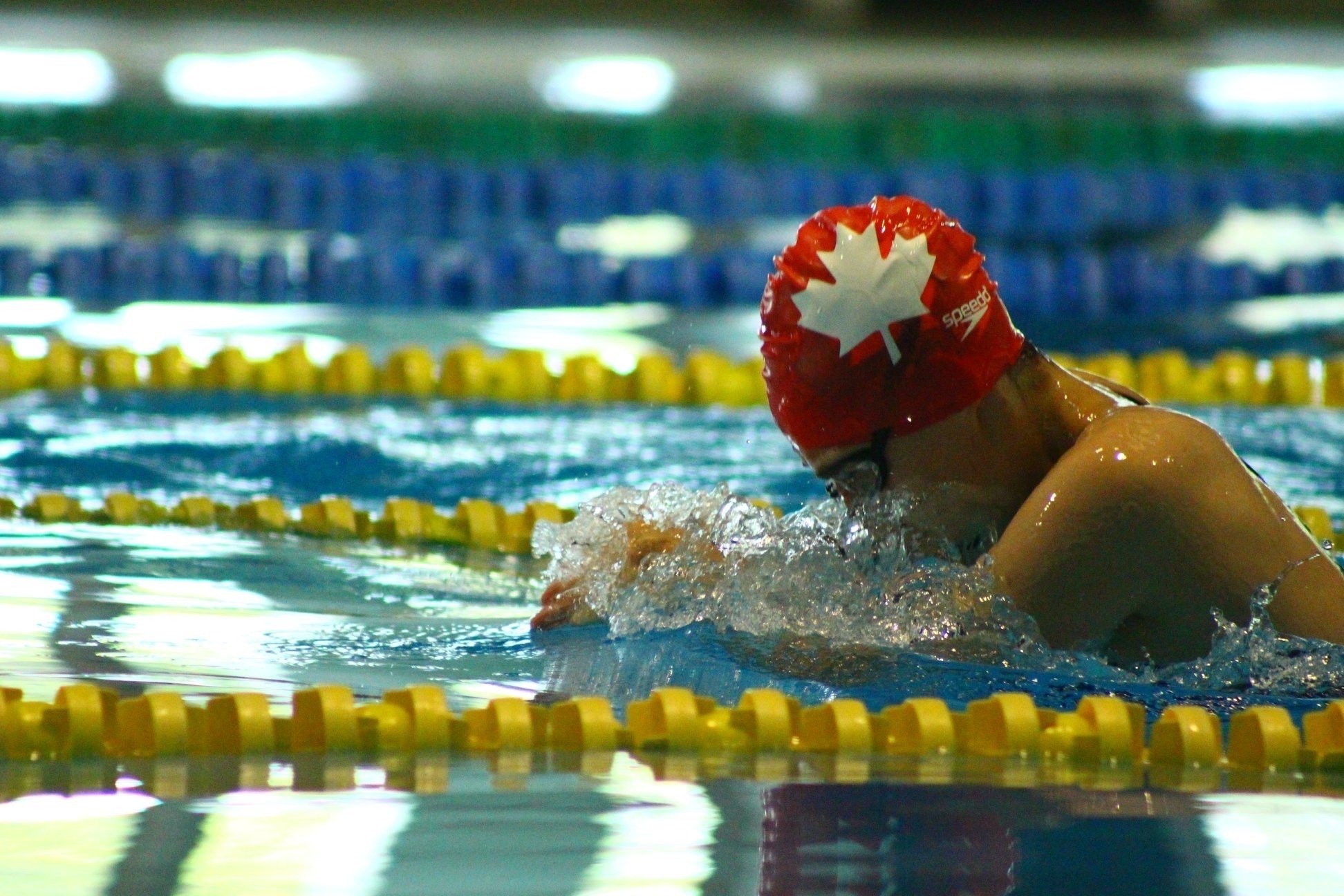 Sports have helped me become stronger physically, more confident and I've met some of my best friends.
How have sports helped you in your life?
Sports have helped me become stronger physically, more confident and I've met some of my best friends. Sports also helped me figure out where I was going to go to high school which turned out to be Birchmount for the BEAP athletic program, which I love. Maybe sports will help me figure out what I want do after high school.
Was there much encouragement to participate or excel in sports?
My Dad said that even though I had a disability I still had to play a sport. Fortunately I love to play sports so it wasn't too much to ask. When I got into swimming there was lots of encouragement to keep on swimming and do my best. Early on in swimming I won the Pizza Nova Rising Stars Award and the next year I made Provincial times and got to travel with the team to places like Nepean and Brantford. Then I made CAN-AM times and started to travel to places like Montreal, Edmonton, and Miami for training camps and CAN-AM meets. So there was lots of recognition and incentives to keep on going and see how far I could go.
What advice would you want to pass on to other youth with cerebral palsy?
I would tell other youth with CP to just go out and try different things until you find something you love to do. Start early. Don't leave it too long because you don't want to miss out on opportunities.
What next? What are your future aspirations?
In my future I hope to represent Team Canada in the 2020 Paralympic Games in Tokyo.
Video courtesy of Birchmount Exceptional Athlete Program (BEAP)